Omega-3-Fettsäuren
Order now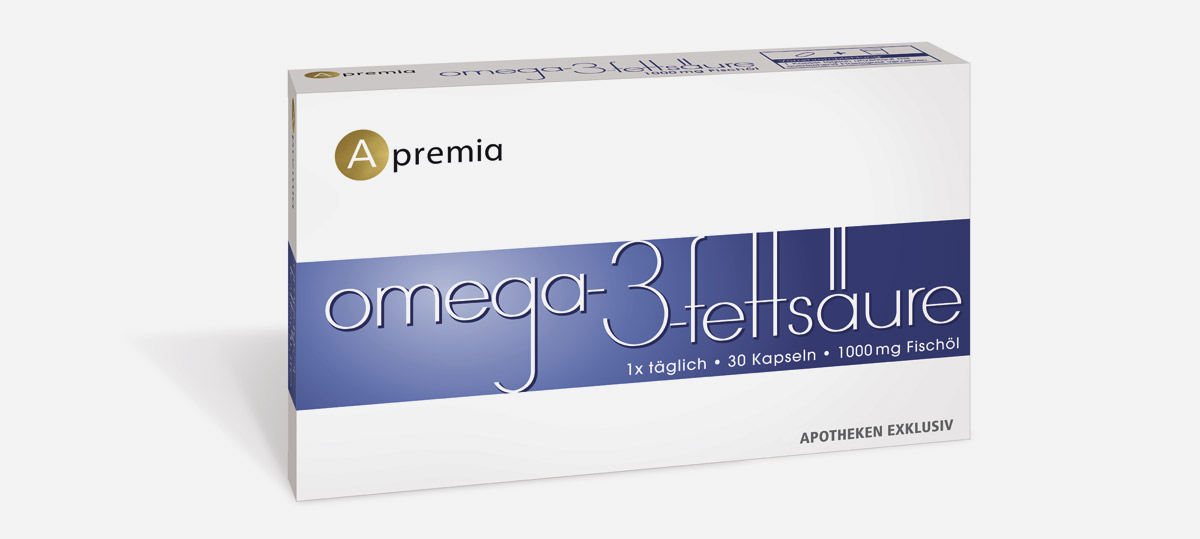 Nutritional supplement containing omega-3 fatty acids and vitamin E – lactose free
Ingredients:
Fish oil
Capsule coat: gelatine
Humectant agent: glycerol, D- α-Tocopherol
Substances per recommended daily dose (1 capsules):
pro Tagesdosis
% NRV* pro Tagesdosis
fish oil
1000 mg
–
of which
eicosapentaenoic acid (EPA)
300 mg
–
docosahexaenoic acid (DHA)
200 mg
–
vitamin E
13,4 mg
112
* % NRV = relative nutrient reference value of the daily amount of vitamin or mineral that the average healthy person needs to prevent deficiency according to EU guidance levels (regulation No 1169/2011)
Recommended daily intake:
Swallow 1 capsules whole with enough water or other liquid.
Eigenschaften:
Omega-3-Fettsäuren sind lebenswichtige, mehrfach ungesättigte Fettsäuren. Sie können von unserem Körper nur in kleiner Menge selbst gebildet werden und müssen mit der Nahrung zugeführt werden. Omega-3-Fettsäure Kapseln enthalten standardisierte Mengen der Omega-3-Fettsäuren Eicosapentaensäure (EPA) und Docosahexaensäure (DHA).
Die wichtigste Nahrungsquelle für die mehrfach ungesättigten Omega-3-Fettsäuren EPA und DHA sind Kaltwasserfische (Hering, Lachs, Makrele).
Docosahexaensäure trägt zur Erhaltung einer normalen Gehirnfunktion und Sehkraft bei. Gemeinsam mit Eicosapentaensäure trägt sie zu einer normalen Herzfunktion bei.
Bei erhöhter Zufuhr von ungesättigten Fettsäuren ist es wichtig, die Vitamin E-Zufuhr anzupassen. Vitamin E trägt zum Schutz der Zelle vor oxidativem Stress bei.
Properties:
Omega-3 fatty acids are polyunsaturated fatty acids which are essential for our bodily functions. Our body can produce them in such a minimal quantity, that we need to ingest these fatty acids for proper nourishment. Every dose of the product "Omega-3-Fettsäuren" contains a standardised amount of the omega-3 fatty acids eicosapentaenoic acid (EPA) and docosahexaenoic acid (DHA).
The natural nutritional sources for the omega-3 fatty acids EPA and DHA are cold water fish, such as herring, salmon, mackerel.
Docosahexaenoic acid is a key factor to assist our body to keep up an orderly brain function and eyesight. In combination with eicosapentaenoic acid it sustains natural healthy cardiac functions.
The intake of unsaturated fatty acids has to be balanced with vitamin E intake, because vitamin E can protect the cells from oxidative stress.
Important reminder:
Dietary supplements must not be used as a substitute for sufficiently varied nourishment. A balanced and diversified diet as well as a healthy lifestyle are essential.
Do not exceed recommended daily intake.
Do not use supplies that have passed their expiration date.
Keep out of reach of children.
Store at room temperature in a dry place.
Amount:
30 capsules
Order now