Phyto-Immun
Order now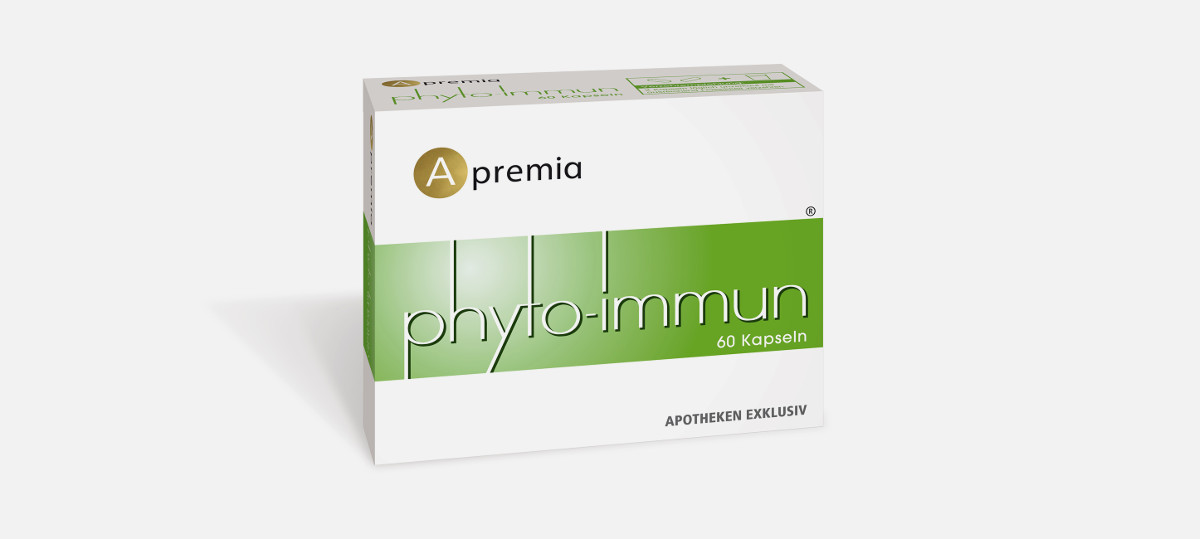 Phyto-Immun: Plant-based boost for the immune system
Nutritional supplement – lactose free and vegan
Ingredients:
Rosehip fruit extract; capsule coat: hydroxypropylmethylcellulose, reishi mushroom extract; bulking agent: microcrystalline cellulose, astragalus membranaceus (mongolian milkvetch) root extract, quercetin, cistus herb extract, citrus-bioflavonoids; separating agent: magnesium salts of fatty acids
Substances per recommended daily dose (=2 capsules):
per daily dose
% NRV* per daily dose
Rosehip fruit extract
containing vitamin C
284 mg
128 mg
–
160
Reishi mushroom extract
containing beta-glucan
150 mg
45 mg
–
–
Astragalus membranaceus root extract
equal to pure substance astragalus membranaceus
100 mg
400 mg
–
–
Quercetin
80 mg
–
Cistus herb extract
containing polyphenols
50 mg
33 mg
–
–
Citrus extract
containing bioflavonoids
33 mg
20 mg
–
–
* NRV = relative nutrient reference value of the daily amount of vitamin or mineral that the average healthy person needs to prevent deficiency according to EU guidance levels (regulation No 1169/2011)
Recommended daily intake:
Swallow 2 capsules whole with enough water or other liquid.
Properties:
To keep the immune system healthy as well as boost it during the winter and pollen season, Apremia provides a plant-based product called "Phyto-Immun".
Rosehip fruit extract: The extract contains vitamin C which boosts and supports a healthy immune system.
Reishi mushroom extract: The reishi or lingzhi mushroom contains beta-glucan and is historically used in traditional Chinese and Asian medicine. Therefore, it was given the translated name "godly mushroom of immortality".
Astragalus membranaceus root extract: Astragalus has been used in traditional Asian medicine for over 4 000 years.
Quercetin: Phyto-Immun contains as much quercetin as one kilogram of blueberries.
Cistus herb extract: The herb was traditionally used in antic tea brewing recipes. Our extract has a high concentration of polyphenols.
Citrus extract: The extract contains bioflavonoids which assist the body with the vitamin C intake.
Important reminder:
Dietary supplements must not be used as a substitute for sufficiently varied nourishment. A balanced and diversified diet as well as a healthy lifestyle are essential.
Do not exceed recommended daily intake.
Do not use supplies that have passed their expiration date.
Keep out of reach of children.
Store at room temperature in a dry place.
Amount:
60 capsules
Order now